Pharmacy Management Outsourcing Booth #11525

Pharmacy Management Outsourcing Booth #8022


QS/1®'s NRx® Pharmacy Management System for Outpatient Pharmacies
QS/1 provides the country's most comprehensive pharmacy management systems with technology and services to manage the entire pharmacy, with total solutions for retail, LTC, HME and multi-site management. QS/1's 550+ employees serve customers through a nationwide network of offices.
Read More

Summer 2014 Edition | Health System - Infusion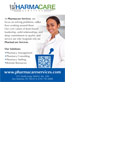 PharmaCare Services
At Pharmacare Services, we focus on solving problems, rather than working around them. Our core values of team-based leadership, solid relationships, and deep commitment to quality and service are why hospitals rely on PharmaCare Services.
Read More

Pharmacy Management Outsourcing
CPS Comprehensive Pharmacy Services
Comprehensive Pharmacy Services is the nation's leading independent pharmacy management service provider to acute care hospitals and behavioral systems, delivering pharmacy service value through financial, operational, clinical, therapeutic, and regulatory expertise.
PharmaCare Services
PharmaCare Services is a national pharmacy management and consulting company that was formed in 1996 by hospital pharmacists who helped pioneer the pharmacy outsourcing concept - serving acute care hospitals, long term care, psychiatric, rehabilitation, and surgical hospitals.
PharmaSource Healthcare - An Omnicare Company
PharmaSource is a leading provider of pharmacy management services with years of experience and expertise who offers management solutions developed to enhance services, improve patient care, and control costs. Visit our website for more information.