Aethon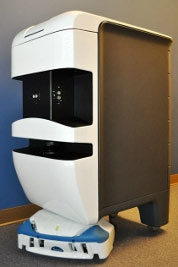 TUG The Automated Robotic Delivery System
The demands on today's hospital pharmacies are greater than ever before. With advances in pharmaceutical treatments and patient protocols, pharmacists and pharmacy technicians must remain focused on ensuring accurate medication fulfillment and minimizing adverse drug interactions and side effects.
Aethon's automated robotic delivery solution, TUG, allows the pharmacy to improve the frequency and reliability of medication deliveries, ensuring secure scheduled and on-demand distribution from the pharmacy to the nurses' station. With its state-of-the art delivery technology, TUG can easily navigate through hallways, doorways, elevators, and even narrow aisle ways with human traffic to ensure safe, timely, and accurate delivery every time.
With its 24/7 availability, nurses no longer need to waste time tracking down medications during night and weekend shifts, leading to increased time at the patients' bedside, better outcomes, and patient and employee satisfaction. Staff shortages and off-shift coverage are no longer an issue with TUG managing the delivery process.
Benefits:
Keep up with the growing demand for new orders needed on the nursing unit
Reduced order-to-delivery time
Refocus pharmacy staff on their core functions, reducing medical errors.
Increased nurse time at the bedside
For more information on how TUG can benefit your hospital, please contact Aethon.