PK Software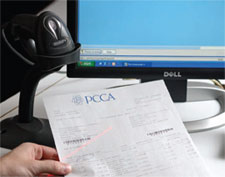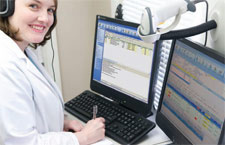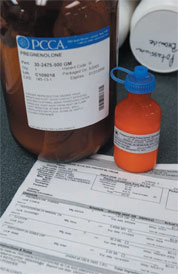 Rev up your Compounding Pharmacy's Performance!
PCCA PK Software is the compounding pharmacist's must-have software. Designed by a compounding pharmacist, PK Software provides user-friendly professional programs designed for Microsoft® Windows® NT, 2000, XP and Windows Vista®. The applications are designed to help compounding pharmacists manage formulas, logs, chemicals, patients, wholesalers and many other important compounding-related items. The professional design of the PK Software programs is based upon USP <795> and <797>, NABP and Good Compounding Practices recommendations for labeling and reports for compounded products including mixing, stability and sterility information.
If you compound, you should use compounding software... and here are some reasons why:
USP <795> and <797>
Documentation of formulation
Documentation of compounding procedure for each compounded batch
Quality Assurance
Bar coding technology for chemical verification
Balance integration with Ohaus Explorer®, Explorer® Pro and Voyager® Pro
Increased Profits
Customized pricing schedules
Gross profit margin validation on prescription dispensing
Increased Patient Care
Store patient test results in their personal profile
SOAP notes, consultation records, consultation invoices
Time Saving Features
Chemical quantities are automatically calculated for every unique batch to save you time
Download formulas from the Internet at your fingertips
OBRA 90
Drug interaction using Clinical Module for brands/generic drugs
Potential allergy assessment
Work Efficiency
Save time - automatic log records - no manual documentation required
Work flow tracking to locate prescriptions in your facility
HIPAA
PK Software is HIPAA compliant
Document receipt of privacy notice
To-Do System
Daily reminders
Cyclic filling for refill prescriptions of your choosing
Scanner Integration
Scan prescriptions to save with prescription record for easy recall
Scan hormone evaluations, studies, lot testing, and more. Store in software or link scanned records stored on another computer to PK data.
Why buy PCCA PK Software? The answers are simple...
PK Software Corporation is a solid reputable company with more than 20 years of experience.
PK Software is partnered with PCCA to integrate formulas and chemicals for PCCA Members. Includes a download function of PCCA formulas for PCCA Members.
PCCA quality assurance functions are featured.
The Compounder Rx will help you fill prescriptions quickly, efficiently and safely.
The Compounder Rx will save time and money by managing inventory levels, as well as updating your prescription pricing information.
The Compounder Rx will enable you to spend more time with your patients by reducing time consuming administrative activities.
The Compounder Lab can help compounding pharmacies manage formulas, logs, sterility and batch testing chemicals.
The Compounder Lab was designed for compounders who want to keep their traditional dispensing system, but still have a need to track their formulas, chemicals and logs.
The Compounder Lab will help you log your compounds more quickly, efficiently and safely.
Add your own formulas to more than 180 pre-loaded formulas that are included with the software. Copy from other PCCA formulas already on file. Or, simply download the formula from PCCA, with more than 5,000 formulas to choose from.
PK Software is partnered with PCCA to integrate formulas and chemicals for PCCA Members. Put the Power of PCCA in your Pharmacy Today. Call the PK Software Support Team at 800/331-2498 to learn more about PK Software and accessories.