VIP Pharmacy Systems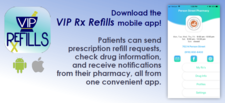 For over 30 years, VIP Pharmacy Systems has been supporting independent pharmacies across the country and helping them not simply stay in business, but grow and thrive. By combining fast, intuitive, all-inclusive software with immediate and personal support, VIP gives your pharmacy the tools it needs to be competitive in an ever-changing and challenging industry.
Pharmacy Software Made Simple
VIPís software is known for a lot of things: its speed, its ease-of-use, its unparalleled customer service. All of these things come out of our background Ė started by a registered pharmacist, and staffed by programmers, testers, and support staff with backgrounds in pharmacy and pharmacy software, VIPís focus has always been on keeping the success of independent pharmacy as the motivation for everything we do.
Whether itís providing syncing and auto-fill tools inside of your workflow, being notified of potential DIR fees, reducing wasteful overstocked drugs with intelligent inventory management and electronic purchase ordering and receiving, or using our drug and prescription image verification software to reduce costly mistakes, VIPís full suite of pharmacy software tools is designed to reduce your storeís costs and maximize your profitability.
VIPís fully customizable pharmacy management software is modular by design, and can be configured to fit pharmacies of every size and every budget. Because your software and your costs should be able to scale with your pharmacy as it grows, VIP doesnít charge our users for software they donít use, helping keep your startup and monthly costs affordable.
Highlighted Features:
Warnings for projected DIR and GER fees
Syncing and Autofill Tools
Rx Image Scanning and Verification with drug images and descriptions
Commercial and government third party eligibility checks
Intelligent inventory management with up to 6 wholesalerís pricing & purchase orders
Interfaces with OutcomesMTM®, Mirixa®, and CPESN®
Automated controlled substance reporting
Partnerships with CoverMyMeds®, Pleio®, Amplicare®, and more.
Compliance Packaging Interfaces
VIP IVR System, Rx Refills Mobile App, and Website Refills
Offsite and Continuous Backup Services
LTC Management for Every Store
Whether you service one group home or 30, VIP has a solution that fits your needs, including our standalone Long Term Care software to help you manage and bill your LTC patients and their facilities. This software can be used in combination with VIPís Pharmacy Management Software, or on its own for closed-door facilities that exclusively work with group homes.
Highlighted Features:
Supports home-specific price formulas, SIG codes, and admin times
Accounts Receivable
Syncing and Auto-fill Tools
Rx Image Scanning and Verification with drug images and descriptions
Compliance Packaging Interfaces
Interfaced with VIPís Point of Sale system
Full Service Point of Sale
VIPís seamlessly integrated Point of Sale system means you donít have to deal with multiple vendors to handle the front of your store. We handle the set up for you, integrate with SIGIS and your wholesalers, and scale your registers to fit your storeís needs and customer flow.
Highlighted Features:
Built in connection to VIPís prescription and customer records
In-house charge accounts
Streamlined credit, debit, and FSA card processing
OTC Inventory with electronic purchase ordering and receiving
Electronic signature capture
PSE reporting to Methcheck® System
Wholesaler pricing and inventory
Mobile credit card processing and signature capture for deliveries
Automated Rx Ready Messaging
Custom gift cards
More Than a Software Company
If youíre a small pharmacy, or even a larger pharmacy, chances are you donít have your own in-house IT department. Thatís why VIP does more than help you process claims Ė weíre your one phone call for 24/7 support for your hardware, software, and networking issues, all with no monthly hardware support fees. With VIP, you can open your business every day knowing you have a top tier support team keeping you running through the slow days and the hectic ones.
VIP is also proud to supply our stores with labels, printer toner, statement envelopes, and other products you need to keep your store supplied and running smoothly.
Visit vip-pharmacy.com, or call 919-644-1690 to learn more about VIP and how weíve helped independent pharmacies across the country for over 30 years!