PDM Healthcare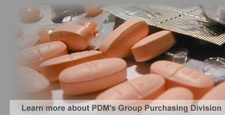 PDM Healthcare is a leading national supply chain management company offering services to thousands of healthcare clients nationwide. PDM Healthcare is an innovative company well known for their innovations.
PDM has negotiated group purchasing contracts with leading manufacturers for branded and generic pharmaceuticals, specialty/biotech and OTC products medical/surgical supplies, HME/DME equipment, wound care, nutritionals, diabetes care, office supplies, and technology products in order to offer our members a truly diversified portfolio of contracts to fully maximize savings. On average, PDM members save 10%-20% on their total annual spend.
Because of our diverse contract portfolio, PDM Healthcare is able to offer our services to all healthcare facilities, including:
Long Term Care Providers
Retail Pharmacy
Mail Order/Managed Care Pharmacy
Specialty Pharmacy
Compounding Pharmacy
Home Health Care
Chain Pharmacy
Long Term Care Facilities
Hospitals
Surgery Centers
Physician Practices and Clinics
Travel Clinics
PDM Healthcare's Group Purchasing Division is dedicated to providing our members with the best quality products and technology at competitive (discounted) pricing. Compliant and committed members can achieve significant savings and unparalleled service for all of their business needs. We work with both consortiums and independent facilities nationwide to streamline operational efficiency, decrease overhead, manage purchasing budgets, and enhance revenue. The discounts we can provide to members is a direct result of the volume of purchases represented by our own member consortium, which amounts to over $7 billion in purchasing transactions per annum.