HARLOFF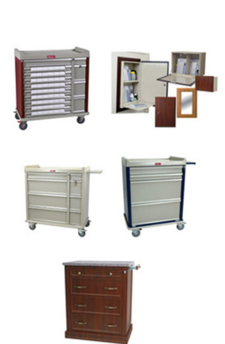 Long Term Care Medication Carts, Medication Furniture and In Room Resident Medication Cabinets
The Harloff Company has been building carts for over 50 years. We offer the most complete line of medication carts available today designed to meet industry requirements for sizes and packaging options. Harloff designs long term care carts and in room cabinets for medication storage, as well as correctional medication carts and pharmacy med carts.
Our line of medication furniture carts and in room resident cabinets provides facilities with the opportunity to embrace culture change with an attractive alternative to traditional medication carts. Designed to look like a piece of furniture with an internal design and proven locking system that will last.
The in-room resident medication cabinets are offered in two models and decorative door fronts. The cabinets serve 1 or 2 residents with a capacity of 40 punch cards. The slam lock provides an easy one hand open and close and both cabinets provide a work area.
Punch Card medication carts continue to be our top sellers. Capacities range from 240 cards to 600 plus cards. We have small med carts that serve group homes, assisted living and small long term care units. Our larger medication carts allow the busiest nursing units to carry all their supplies with them during medication passes.
Bin Carts offer an economic option to cassette carts and come with bin size choices. Our bin medication cart option provides an easy solution for strip packaging, PACMED®, AutoMed®, OPUS®, Vials, bottles and cassettes. Bin carts are available in either dual column or single column design.
Harloff Unit Dose medication carts are adaptable to hold other types of medication packaging. Provide the height, width and depth of your packaging and we will provide a divider option.
Our specialty packaging carts have been designed to meet the needs of a variety of packaging to include Medicine-On-Time®, Opti-Pak®, and 4" tall plastic bins that hold AutoMed® or PACMED. We have the capability to manufacture MOT® Med carts, and Dispill® Med Carts.
Located in Colorado Springs Colorado, Harloff carts are built in the U.S.A. Our Long Term Care Correctional Sales Team will be happy to help you with your cart decision.