Transaction Data RX30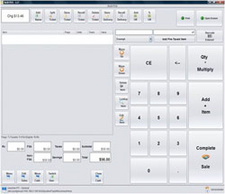 The Pharmacy Management System
The Rx30 Pharmacy System provides your pharmacy incomparable Prescription Filling, Nursing Home, Consulting, Accounts Receivable, Workflow Management, Signature Capture, IV processing, Compounding, Integrated POS Solutions and an abundance of value-added vendor interfaces to provide you a total turnkey dispensing solution. Whether you are a small independent start-up filling 30 prescriptions a day or a 100+ independent chain operation filling 1500 prescriptions a day - Rx30 is the perfect solution!
Prescription Processing
Prescription processing is the heart of Rx30's Pharmacy Management Software. Rx30's tremendous growth over the past several years is attributed to a well coordinated blend of independent pharmacist input and unparalleled programming expertise. Having the concept of how it should ideally function is important, but also making it smoothly operate in the reality of a hectic work environment - is critical to your needs. Rx30 has created a proven, successful balance of coordinating Pharmacist expertise with programming know-how to create a Pharmacy Management System that is extremely efficient, powerful, user-friendly, and yet extremely adaptable to the continual change in market demands! You'll simply love how Rx30 functions in your pharmacy!!
Rx30's Pharmacy Management System contains all of the complex tools required of today's pharmacist. From refilling prescriptions in seconds, to being alerted and guided through drug interactions, duplicate therapies and allergies, or giving you the ability to scan in the hard copy prescription, track workflow, instantly find Dr. NPI/DEA information, print built-in Medication Guides, view internal Facts & Comparisons, reconcile EOB's electronically, send outbound compliance emails, adjudicate claims in 1-3 seconds, and in the very near future - receive Dr. faxes into Rx30 as internal images! Itís not hard to see that this in not your ordinary Pharmacy Management System!
Check out just a few Rx30 features that are included at NO extra charge!:
Dr. NPI/DEA Lookup
www.Refillrx.com
Pill Imaging
Internal Facts and Comparisons
Internal Medication Guides
Enhanced Workflow
Emailing for Compliance!
Rx30 Point of Sale
The Rx30 Point of Sale System is designed for our customers that desire seamless product integration to the Rx30 Pharmacy Management System, complete two-way data communication, FSA/CC ready functionality, Total management of pharmacy Rx/OTC product lines, and provides the satisfying comfort of knowing that you are supported by a single source vendor that is committed to the service and support of it all! Better yet, you will be thrilled to find that you can finally have an integrated Point of Sale System at the price that youíve been wanting for so long!
Through the years, you've trusted Rx30 to produce the best. Now, with the addition of our NEW Rx30 POS, youíll see that weíve once again delivered, and delivered at a price that truly makes sense for your Independent Pharmacy!!
Take a look at a few of Rx30ís POS features:
FSA/HSA READY!!
Full online Credit/Debit card processing
Full Rx30 Pharmacy Management System integration
Integration with Rx30 Accounts Receivable Program
Easy to Use Touch Screen Application
Wholesaler Product load and Pricing file updating
Integrated Electronic P.O's - OTC and Rx
Inventory Control
Rx Tracking features: Relationship linking, Rx linking
Electronic Signature Capture - CC/Hipaa/3rd party logs
Wireless Inventory Scanning - Optional
Much, much more...