American Society of Consultant Pharmacists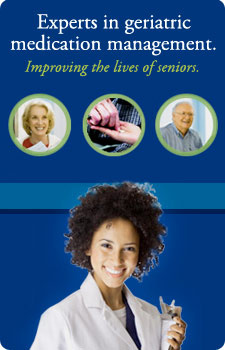 The vision of the American Society of Consultant Pharmacists is optimal medication management and improved health outcomes for all older persons.
The American Society of Consultant Pharmacists empowers pharmacists to enhance quality of care for all older persons through the appropriate use of medication and the promotion of healthy aging.
Core Strengths
Knowledge and skills in geriatric pharmacotherapy and the unique medication-related needs of seniors and long-term care residents
Expertise in long-term care settings for the frail at-risk elderly
Patient-centered advocate for seniors at-risk for medication-related problems
In their role as medication therapy experts, consultant and senior care pharmacists:
Hold their patients' interest above all others
Take responsibility for their patientsí medication-related needs
Ensure that their patientsí medications are the most appropriate, the most effective, the safest possible, and are used correctly; and
Identify, resolve, and prevent medication-related problems that may interfere with the goals of therapy.
ASCP's 7,000+ members manage and improve drug therapy and improve the quality of life of geriatric patients and other individuals residing in a variety of environments, including nursing facilities, subacute care and assisted living facilities, psychiatric hospitals, hospice programs, and home and community-based care. In addition, 4,500+ pharmacy student members of ASCP demonstrate their identification with and support of ASCP's mission and vision to serve seniors wherever they reside.