Rx Systems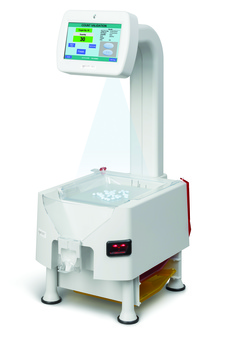 EYECON Pill Counter – Create Time, Relieve Pressure, Improve Profits!
EYECON is the preferred choice of pharmacists that want to semi-automate their prescription filling process. Improve your Dispensing Efficiency, while eliminating overcounts and providing peace of mind that the patient receives the correct NDC.
EYECON's unique Visual Counting System™ is up to 76% faster, which reduces labor by 40 man-hours per month for the average pharmacy, and interfaces with all major software systems. Reduce tedium and stress from your staff while creating more time to spend with customers. Your customers will benefit from improved customer service and Rx accuracy!
EYECON is a unique machine vision counting system that uses a camera mounted above the counting platter to capture photo images that count pills five times per second, while saving a photo of every transaction. Photos are easily retrieved and/or printed in the event a count is questioned (sample photo to the right), includes time/date stamp, user ID & target qty while numbering each pill on the screen.
EYECON 9430, the third generation Eyecon is now available. The 9430 includes a color camera option that is ideal for Telepharmacy and pill verification.
EYECON Highlights…
Validates the proper NDC is being used.
Interfaces with all major software systems
USP <800> Compliant. Includes Haz Drug Trays.
Complements robotic dispensers for quick double counts
Assists with Inventory, including accessible Excel reports
Tracks Partial Fills and IOUs
Allows Generic Substitutions
"Double Count" feature. Second count of Control Drugs only takes an average of 5-6 seconds, plus you have saved documentation and photos of both counts.
"Back Count" feature. Quickly allows staff to count remaining stock bottle inventory.
Click "Visit Our Website" below to view the EYECON Training and Testimonial videos. Request a free two-week evaluation unit on the website, specifying Rx Systems under the distributor name. Leasing options are available.
Rx Systems, Inc. is a family-owned manufacturer and full-service provider of pharmacy packaging and supplies that provides independent community and institutional pharmacies with quality products including Rx Labels, Bags, Vials, Medication Carts, Pill Cards, and the Eyecon Pill Counter.