ScriptPro Pharmacy Software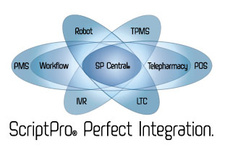 ScriptPro Pharmacy Management Solutions
ScriptPro offers the most advanced, scalable pharmacy management software platform available and incorporates robotics, workflow, and pharmacy management within a unified architecture. This is a fully integrated, complete solution for your pharmacy, engineered and supported by ScriptPro.
Our technology addresses the needs of pharmacy at any scale and across all healthcare settings. We support your pharmacy practice in growing your patient service offerings and profitable revenue streams. Following are additional ScriptPro solutions designed to help you achieve your pharmacy goals.
Real-Time 340B Processing — Discover the industry's only automated, true real-time 340B processing engine. Virtual inventory management has never been easier or more accurate, with built-in tracking and reconciliation that ensures audit compliance.
Third Party Management — Combat PBM abuses, lock down contract terms, and navigate all aspects of third party revenue management with ease. Our third party management solutions combine real-time transparency with action, so you have the tools you need to run financially sound operations.
Advanced Pharmacy Clinical Services — Practice at the top of your license and abilities with workflow-integrated clinical documentation and case management. Track clinical program tasks, attain/maintain URAC and ACHC accreditation, and earn revenue from systematic chronic care management.
Inventory Management — Automated inventory management that actually works. Provides real-time inventory tracking, order generation, electronic transmission, and receiving. It automatically downloads supplier catalogs and offers robust reporting on utilization, order savings opportunities, and more.
Storage and Retrieval System — Provides pharmacies with the most advanced and secure will call management solution in the industry. It utilizes a patented single-step process to store prescription will call bags and extends the chain of control over medications until they are dispensed to the patient.
Pharmacy Administration Services — Our pharmacy and medical billing experts help you navigate the ever-changing care reimbursement landscape. From accreditation assistance and credentialing services to medical billing and all things contract-related, we help you optimize revenue and tap into growth opportunities.