Health Care Logistics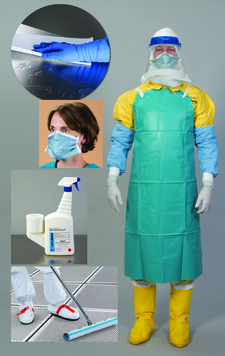 USP 797 Compliance

Finding products that comply with USP <797> mandates isnít always easy, but it is essential. And Health Care Logistics has you covered. We offer the most diverse selection of USP <797> and infection prevention solutions in the healthcare industry and we provide all the solutions you need in one convenient location.
Cleaning supplies such as Lint-Free Wipes and Sterile Cleanroom Wipes are great for cleaning lab equipment and medical instruments in areas where bacteria, particulate and extractable levels are critical concerns. Our Cleaning Tools & Supplies can help you achieve quick, effective cleaning and disinfecting in critical areas such as cleanrooms, isolators, restricted access barrier systems, filling lines, laminar flow hoods, cabinets, incubators and glove boxes. And our Infection Control Mats effectively remove dirt, dust and lint on contact from shoes, making it easier than ever to comply with USP <797> mandates!
Could your facility benefit from stainless steel storage containers, lock boxes and utility trays to simplify USP <797> compliance? Do you have an existing product you'd like to upgrade with a specially sized metal adaptor such as a bracket, plate, clamp or hanger that is USP <797> friendly? Whatever solution you seek, HCL can deliver. We create metal products to match your unique specifications so you can work more efficiently and produce better results. Our designers use stainless steel and aluminum, dependent upon your needs, and our design consultation services are always FREE!