Medicine On Time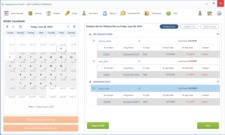 Improving Medication Adherence is critical for your patients and your bottom line. Medicine-On-Time, A CSSHealth Company, understands the challenges your pharmacy business faces and offers the solutions and expert support you need to start, grow, and master your medication adherence program.
Streamline your program with motNext Patient Adherence Software
Serve any patient in any care setting with an array of compliance packaging solutions
Promote and grow your business in multiple care settings with the guidance of our marketing services and business development professionals
Join our Advanced Practice Network to expand your clinical services and access new Payer reimbursement opportunities
Products and Solutions
Adherence Software
Medicine-On-Time's unique adherence software, motNext is designed to help you organize patient profiles, cycle dates and all key elements needed to efficiently operate your adherence program. This robust platform allows you to power multiple package types for any patient with either simple or complex medication regimens.
Organize medication adherence data for any patient
Simplify compliance packaging, even for the most complex prescriptions
Choose multiple card formats for any patient in any care setting
Choose from 40 reports, charting forms and lists that allow you to enhance patient care
Learn more at https://medicineontime.com/adherence-software/
MOT Complete
Powered by motNext software, MOT Complete is the solution that does it all. This intuitive package provides versatility for your pharmacy and your patients. Improve patient outcomes and elevate your pharmacy quality measures with this all-in-one solution!
Color-coded and organized by dose time
Monthly or weekly calendar layout
Flexible days' supply options
Removable dose cups for on-the-go patients
Learn more about MOT Complete by visiting: https://medicineontime.com/mot-complete/
CircuPack
Powered by motNext software, CircuPack is a unique end-to-end medication adherence solution that offers accuracy and efficiency for your pharmacy and for your patients. Simplifying medication management has never been easier with this affordable semi-automated solution!
Semi-automated filling process for ease and accuracy
Color-coded and organized by dose time in a weekly card layout
The Circupack card, ergonomically designed to fit comfortably in your patients hands is clearly labeled and easy-to-follow
Patient Reminder App helps patient never miss a dose
Learn more about CircuPack by visiting: https://medicineontime.com/circupack/
Multi-Dose Start-Up Solutions
If you are looking for an easy, low-cost solution to help you get started with your adherence program, Medicine-On-Time's Multi-Dose Start-up solutions are for you. The easy weekly layout helps you organize your patient's medications by morning, noon, evening and bedtime doses. The multi-dose starter solution is ideal for patients with less advanced regimens who benefit from medications being organized in the pharmacy..
Easy to use, low-cost solution
Meets class B packaging guidelines
Helps your pharmacy introduce compliance packaging to your patients
Designed to improve medication adherence
Learn more about our multi-dose start-up solutions by visiting: https://medicineontime.com/multi-dose/
Single Dose Solution
Medicine-On-Time manufactures all Single Dose products in the U.S. with the highest quality materials. They offer an array of cards at competitive price points and continue to expand this product line to meet your pharmacy's ever-changing needs
Heat seal and cold seal solutions
Branding and customization available
Meets class B packaging guidelines
Designed to help you meet your patients' in Skilled Nursing and LTC facilities.
Learn more about our single dose solution by visiting: https://medicineontime.com/single-dose/
NEW Products Available!
Single Dose Card for SynMed - Medicine-On-Time's newest single dose card is designed to meet the specifications of SynMed XF or Ultra robots produced by pharmacy automation partner, Synergy Medical. It is available in 30, 31 and 31 Cycle Fill variations including medium and large blisters.
Shop at https://shop.medicineontime.com/singledose/cold-seal-pressure-sensitive/single-dose-for-synmed
NEW Single Dose Select Seal – When pharmacies must accept returns from nursing homes for credit under Medicare Part A, MOT Select Seal allows for the recovery of the unused medications in a unit dose blister package. Medication Name, strength, lot number and expiration date is preprinted on each dose cup in the pharmacy. Available in 30 and 31 dose configurations including medium and large blisters.
Shop at https://shop.medicineontime.com/singledose/heat-seal/select-seal-unit-dose
COMING SOON! Look for Medicine-On-Time's newest multidose solutions coming in June and October 2021! These unique Medication Compliance packages will meet every patients' needs and support your enhanced clinical services programs.
Network and Services
Access clinical opportunities, improve quality measures, & accelerate growth with Medicine-On-Time's network & service offerings. Learn more at https://medicineontime.com/programs-overview/

Customer Support - Streamline your workflow and master your adherence program with guided implementation and support.
Marketing Support -Grow your pharmacy and educate your customers with promotional resources and materials.
Performance Programs -Mitigate DIR fees and realize new financial opportunities by elevating your pharmacy quality measures.
Ask About the Advanced Practice Network! -Join the Advanced Practice Network to access new reimbursement opportunities for Clinical Services