Health Care Logistics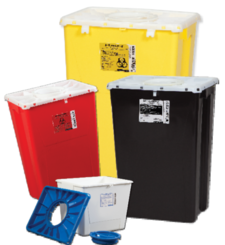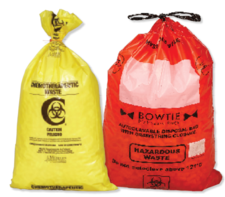 Waste Management
Med waste disposal requires careful consideration for safety, both now and long after contents are removed. Minimize liabilities with clearly labeled bags and containers that promote puncture resistance, drug deactivation, and environmental awareness.
Sharps containers are available in multiple sizes and styles with features including dual openings, locking lids, and color coding for at-a-glance content identification. Minimize the risk for needlesticks and cross-contamination with options designed for superior performance.
Manage unused and expired meds with eco-friendly disposal systems that destroy drugs and mitigate diversion.
Rx Destroyer™ is an eco-friendly medicine disposal system that chemically renders tablets, capsules, patches, ointments, and liquids irretrievable in just seconds. It conforms to the DEA's latest standards of drug disposal and destruction and because it is completely portable it can easily be stored in close proximity to the drugs themselves. Choose from four sizes to meet facility-specific needs.
For a smaller drug disposal option, choose Deterra® Drug Disposal Pouches, which use an activated carbon formula to render prescription drugs inert when mixed with water. Pouches are ideal for narcotics, antibiotics, and hormone therapies and they reduce the environmental impact of drug disposal, earning approval from both the EPA and the DEA. Available in six sizes, Deterra accepts tablets, capsules, liquids, creams, and transdermal patches.
Matching wall mounts, available for both Rx Destroyer and Deterra, secure containers in a consistent location.
Hazardous drug disposal bags, available in multiple sizes and styles, offer protection against dangerous tears and leaks when handling medical waste. Bags are marked with warning labels and allow users to safely dispose of a variety of toxic materials. They include features such as sterilization indicator patches, drawstring closures, and multiple dispensing options to meet site-specific criteria.