Health Care Logistics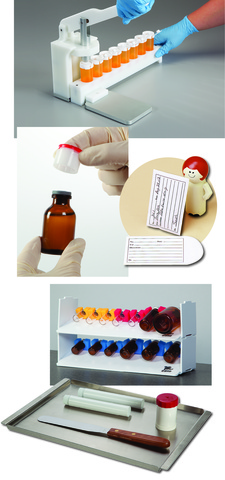 Pharmacy Compounding Supplies
The HCL Compounding and Dispensing line features a diverse selection of products with a special focus on USP 797 & 795 supplies as well as those specially designed for precise medication measuring, mixing and filling. We're committed to offering products that help you increase productivity, maximize efficiency and improve accuracy in all aspects of your business.
To eliminate hand fatigue when packaging liquid compounds, try our Liquid Unit Dose (LUD) Press. It has an aluminum base and rod that easily seals caps onto vials or cups. Choose a heavy-duty Holder for Vials or a Holder for Cups, each of which will hold up to eight items side by side to prevent spills. A raised notch on the LUD Press platform helps guide your holder into position to create a secure seal on every vial or cup, every time. You spend less time on alignment and improve productivity.
We create metal products to match your unique specifications so you can work more efficiently and produce better results. Could your facility benefit from stainless steel storage containers, lock boxes and utility trays to simplify USP <797> compliance? Do you have an existing product you'd like to upgrade with a specially sized metal adaptor such as a bracket, plate, clamp or hanger that is USP <797> friendly? Whatever solution you seek, HCL can deliver. Our designers use stainless steel and aluminum, dependent upon your needs, and our design consultation services are always FREE!