Health Care Logistics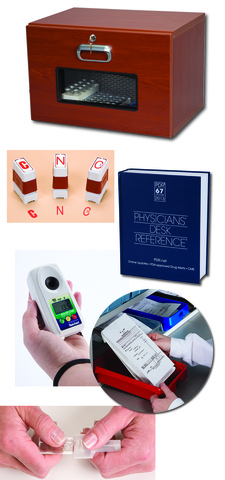 Pharmacy Supplies
Find everything you need to create an organized workspace and function more efficiently in the pharmacy with Health Care Logistics' full inventory of pharmacy supplies. Easily improve drug dispensing accuracy and medication integrity with our reliable tools of the trade!
To keep temperature-sensitive drugs warm and prevent drugs from crystalizing, try our Medication Warming Cabinet. It features an adjustable thermostat and a quiet, low-speed fan that distributes heat evenly. Touch-safe heater with protective shield eliminates burn risk. Choose from seven cabinet colors and five handle options.
Bring order to the pharmacy and create a streamlined procedure for filling individual prescriptions with our colorful collection of Rx Fill Trays. As versatile as they are functional, they make it easy to stay accountable when filling prescriptions and stay organized when managing pharmacy supplies. As fill trays, these handy containers keep individual prescription components together each step of the filling process — from arrival at the drug store to the Will Call/Pick Up counter. HCL's durable plastic trays also are ideal for organizing and storing items elsewhere in the pharmacy. Use any combination of trays, available in seven colors, to create an at-a-glance color-coded supply management system.
Multipurpose Stainless Steel Trays can be used as processing trays, medical supply organizing trays or pass-through boxes to the cleanroom — a perfect option for USP<797> compliance. Trays feature easy-grip handles for hassle-free transport and nest when empty. They can be cleaned easily using medical-grade cleaning wipes.
Tighten narcotic monitoring using our handheld refractometer, which helps determine the consistency of controlled substances and ensure mixtures have not been altered. This rugged and reliable device has double cemented glass optics to reducing stray light and improve image quality.