Medi Dose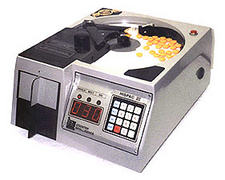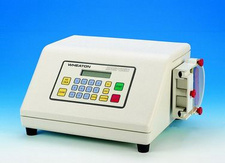 Accurate, simple and cost effective!
Hispac III is highly accurate…a simple gate adjustment allows only 1 tablet or capsule to pass by the machine's electric eye. While the machine is on, a wiper brush continuously cleans Hispac III"s rotating disc. With its two drawer design, Hispac III can be used for either single or multiple counts. It can be equipped for either 110 Volt or 220 Volt power requirements. And, the machine's small footprint lets you place it anywhere you need and easily stored away when not in use.
Controlled Accuracy - Simple gate adjustment allows only 1 tablet or capsule to pass across light beam at a time
Self Cleaning - Wiper brush continuously cleans rotating disc while HISPAC III is in use.
Small Footprint - lets you place it anywhere you need and easily stored away when not in use (W=10.5" x L=12.5" x H=7.0")
Single Counts - Counts into top drawer and transfers to vial. Excess transfers to lower drawer so it can be replaced into stock container.
Multiple Counts - Remove top drawer at end of initial count. By pushing "MULTIPLE" button, remaining tablets will stay on top of counter, ready for next count. Ideal for prepackaging.
Inventory Counts - By pressing "INV" button, HISPAC III will count up to 1000 and restart at 1 automatically.
Available in 110 (Weight=7lbs) or 220 (Weight=8.5lbs) voltage requirements
Accurate, repetitive, automatic dispensing!
The Unispense II is a versatile, moderately priced alternative to manual liquid dispensing.
Moderately Priced
1 to 830 ml Volume Setting
0.5 to 5 Second Delay Setting
No Pistons or Valves to Jam
Less Than One Minute to Change Tubes
Audible Signal at End of Filling Cycle
Accommodates Liquids of Various Viscosity
Unispense II allows you to dispense unit dose liquids and larger volumes accurately and repeatedly. You can vary the size of the Unispense tubing assembly and the volume setting from 1 ml to 830 ml*. You can also change the delay between dispensings from 0.5 to 5 seconds. Keep the manual dispense button or footswitch depressed for continuous pumping.
The single speed peristaltic pump accommodates liquids ranging in viscosity from aqueous solutions to medium syrups. Unispense® II records the number of doses from a ready reference. An audible signal at the end of the filling cycle frees you from visually monitoring the unit.
There are no valves or pistons to become clogged or "frozen" so downtime is reduced. And, the used tubing assembly is removed and replaced with a fresh assembly in less than one minute. When used with the Wheaton IV Additive Pump Chamber Assembly, Unispense® II efficiently prepares IV Additive admixtures and fills sterile syringes for injectables.
The Medi-Dose® Group, known for its innovative solid and liquid oral unit dose packaging systems, has always had deep roots---family roots. This is not surprising since Medi-Dose began as a small family business. Medi-Dose was founded in 1971 when Milton Braverman, a former pharmaceutical company Territory Manager, formed his own company.