Rxshelving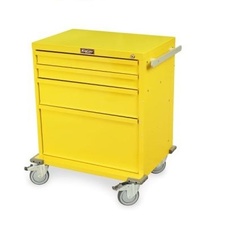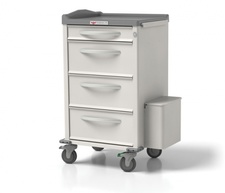 With the focus on the COVID-19 virus; facilities are looking for solutions for infection control, isolation carts, and storage of PPE items. RxShelving.com; a division of Surplus Equipment Company is here to help.
Our PPE carts offer six clearly labeled drawers for convenient access to items recommended by the Center for Disease Control, Masks, Gloves, Coveralls, Gloves, Hand Sanitizer, and Clinical Waste Bio-hazard Bags.
Isolation carts are an important part of your preventive measures program in your facility. Our bright yellow drawers alert staff and patients that there is a risk of infection in the room. The roomy drawers and convenient organizers provide plenty of storage space for gowns, masks, gloves, and supplies.
The Rapid Response Medical Cart is a limited-edition cart available to purchase for facilities responding to COVID-19 issues. This cart is offered during natural disasters and critical health concerns to provide a secure, mobile cart to meet immediate demands for storage.
As always Rxshelving.com remains your source for all your healthcare and medication cart needs.
Please visit our website for information on Treatment Carts, Cassette Carts, and Pill Card Carts. We offer convenient online ordering, or we would be happy to discuss your order over the phone.